Day +8. Counts are still zeroed out. Getting platelets today because that count dipped too low. Got RBCs yesterday because I was super anemic. Began neupogen shots yesterday (and will continue daily) to "awaken" the "new" "immune" "system." Don't judge me for being snarky. My patience is running dry.
---
Aside from combatting the daily boredom, often by watching movies and TV, and useless internet surfing (who even says that anymore?), I'm glad that I'm feeling so much better than last week. There is a lingering nausea, however, that makes each meal a chore and taking every medication labor intensive — but I'll survive.
I've reached the point where hospital food is very unappealing and I struggle to find things on the 8-page menu to stomach for each meal. Honestly, all I really want to eat right now (and until this ravenous craving is satiated) is Chinese take out. Or Korean food. Shoot, I could go for some Pho too, with some Pad Thai thrown in. I'm. craving. flavor. And by "flavor" I really mean umami, the fifth taste. Everything I eat is so bland, and simply adding salt doesn't make it better. It just makes it salty. Different than umami. I'm asking for a friend.
But alas, I'll have to wait until I'm no longer neutropenic before even beginning to think about outside foods entering this eager mouth. This could be a few days, a week, a few weeks before it actually happens. Until then, I'll be cooped up in my hospital room throwing shade at clips of mukbang celebrities as my stomach growls. I digress.
---
Steve has been quite the nuisance lately. I think he has a chronic attention hogging disorder. He can't go longer than 90 minutes without beeping and needing attention. The worst is at 3AM. We get it Steve. You're special. Calm down.
I think this meme very accurately sums up his wailing.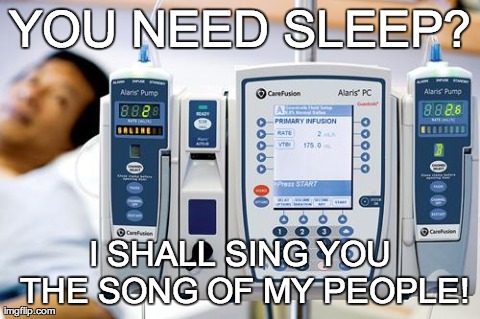 BEEP BEEP BEEP.